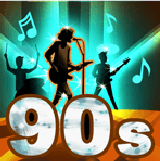 This playlist contains 243 songs*
Because The Night (Unplugged)
All That She Wants
The Sign
All I Have To Give
Everybody (Backstreet's Back)
I Want It That Way
Quit Playing Games (With My Heart)
Show Me The Meaning Of Being Lonely
Sometimes
(You Drive Me) Crazy
Do I Have To Say The Words
Have You Ever Really Loved A Woman?
All By Myself
If You Asked Me To
It's All Coming Back To Me Now
My Heart Will Go On
The Power Of Love
Where Does My Heart Beat Now
Genie In A Bottle
What A Girl Wants
December
Shine
The World I Know
Bills, Bills, Bills
Jumpin', Jumpin'
Say My Name
I Love You Always Forever
Nuthin' But A 'G' Thang [Ft. Snoop Dogg]
Come Undone
Ordinary World
Free Your Mind
My Lovin' (You're Never Gonna Get It)
Fix Me Now
Only Happy When It Rains
All I Wanna Do Is Make Love To You
Alright
Because Of Love
Black Cat
Come Back To Me
Escapade
Runaway
Hard Knock Life (Ghetto Anthem)
Frozen
Rain
Ray Of Light
Secret
This Used To Be My Playground
Vogue
You'll See
Always Be My Baby
Dreamlover
Emotions
Honey
Love Takes Time
My All
Vision Of Love
Rock And Roll Dreams Come Through
How Can We Be Lovers
Missing You Now
In The Closet
Remember The Time
Who Is It
You Are Not Alone
I Still Love You
Too Close
Do You Remember?
Everyday
I Wish It Would Rain Down
I'll Be Missing You [Ft. 112]
C'mon N' Ride It (The Train)
Gotham City
I Believe I Can Fly
Now And Forever
Take This Heart
None Of Your Business
Whatta Man [Ft. En Vogue]
Crash And Burn
I Want You
Truly Madly Deeply
Man! I Feel Like A Woman!
You're Still The One
Damn I Wish I Was Your Lover
Fields Of Gold
If I Ever Lose My Faith In You
Baby-Baby-Baby
No Scrubs
Red Light Special
Unpretty
Waterfalls
Hold Me, Thrill Me, Kiss Me, Kill Me
Here I Am (Come And Take Me)
My Way
You Make Me Wanna...
All The Man That I Need
I'm Your Baby Tonight
Ad blocker interference detected!
Wikia is a free-to-use site that makes money from advertising. We have a modified experience for viewers using ad blockers

Wikia is not accessible if you've made further modifications. Remove the custom ad blocker rule(s) and the page will load as expected.