The Cars

The Cars, 1984. L-R: Benjamin Orr, Greg Hawkes, David Robinson, Ric Ocasek, and Elliot Easton.

Origin

Boston, Massachusetts, USA

Years active

1976-88, 2010-12

Genres

Rock, New Wave

Labels

Elektra, Concord

Associated acts

Creedence Clearwater Revisited, DMZ, The Modern Lovers, The New Cars, ORR
Playlists
Edit
Songs by this group feature on the following SongPop playlists:
Discography
Edit
Studio Albums:
The Cars (1978)
Good Times Roll
My Best Friend's Girl
Just What I Needed
I'm In Touch With Your World
Don't Cha Stop
You're All I've Got Tonight
Bye Bye Love
Moving In Stereo
All Mixed Up
Candy-O (1979)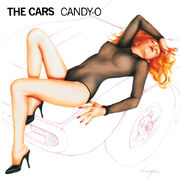 Let's Go
Since I Held You
It's All I Can Do
Double Life
Shoo Be Doo
Candy-O
Night Spots
You Can't Hold On Too Long
Lust For Kicks
Got A Lot On My Head
Dangerous Type
Panorama (1980)
Panorama
Touch And Go
Gimme Some Slack
Don't Tell Me No
Getting Through
Misfit Kid
Down Boys
You Wear Those Eyes
Running To You
Up And Down
Shake It Up (1981)
Since You're Gone
Shake It Up
I'm Not The One
Victim Of Love
Cruiser
A Dream Away
This Could Be Love
Think It Over
Maybe Baby
Heartbeat City (1984)
Hello Again
Looking For Love
Magic
Drive
Stranger Eyes
You Might Think
It's Not The Night
Why Can't I Have You
I Refuse
Heartbeat City
Door To Door (1987)
Leave Or Stay
You Are The Girl
Double Trouble
Fine Line
Everything You Say
Ta Ta Wayo Wayo
Strap Me In
Coming Up You
Wound Up On You
Go Away
Door To Door
Move Like This (2011)
Blue Tip
Too Late
Keep On Knocking
Soon
Sad Song
Free
Drag On Forever
Take Another Look
It's Only
Hits Me
Ad blocker interference detected!
Wikia is a free-to-use site that makes money from advertising. We have a modified experience for viewers using ad blockers

Wikia is not accessible if you've made further modifications. Remove the custom ad blocker rule(s) and the page will load as expected.