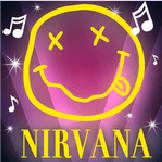 This playlist contains 27 songs*
for the group see Nirvana.
The Man Who Sold The World
Milk It
Moist Vagina
Radio Friendly Unit
Rape Me
Scentless Apprentice
School
Sliver
Stay Away
Where Did You Sleep Last Night
Ad blocker interference detected!
Wikia is a free-to-use site that makes money from advertising. We have a modified experience for viewers using ad blockers

Wikia is not accessible if you've made further modifications. Remove the custom ad blocker rule(s) and the page will load as expected.