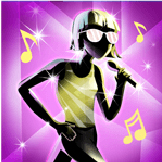 This playlist contains
171 songs*
 Listen to the playlist on GROOVESHARK, New Wave - Song Pop
I Ran (So Far Away)
Wishing
Be Near Me
The Look Of Love
Poison Arrow
The Sun Always Shines On TV
Call Me
Heart Of Glass
One Way Or Another
Video Killed The Radio Star
Good Times Roll
Shake It Up
You Might Think
In Between Days
Just Like Heaven
The Walk
You Spin Me Round (Like A Record)
Enjoy The Silence
Just Can't Get Enough
People Are People
Girls On Film
Hungry Like The Wolf
Rio
Lips Like Sugar
Never Stop
Elvis Costello & The Attractions
Every Day I Write The Book
Pump It Up
Watching The Detectives
(What's So Funny 'Bout) Peace, Love, And Understanding
Here Comes The Rain Again
Sweet Dreams (Are Made Of This)
Der Kommissar
Rock Me Amadeus
One Thing Leads To Another
Saved By Zero
Our Lips Are Sealed
We Got The Beat
No One Is To Blame
Things Can Only Get Better
Don't You Want Me {Song incorrectly titled Don't You Want Me Baby}
(Keep Feeling) Fascination
Is She Really Going Out With Him?
Steppin' Out
I Beg Your Pardon (I Never Promised You A Rose Garden)
Down Under
Who Can It Be Now?
Destination Unknown
Walking In L.A.
Always Something There To Remind Me
Promises,Promises
Dead Man's Party
Only A Lad
If You Leave
Messages
So In Love
Another Girl, Another Planet
Opportunities
West End Girls
Shock The Monkey
Games Without Frontiers
Don't Stand So Close To Me
Spirits In The Material World
Brass In Pocket
Back On The Chain Gang
Love My Way
Pretty In Pink
Talking In Your Sleep
What I Like About You
Cities In Dust
Spellbound
Say Hello, Wave Goodbye
Tainted Love
Rock This Town
Stray Cat Strut
Burning Down The House
Once In A Lifetime
Psycho Killer
Everybody Wants To Rule The World
Shout
She Blinded Me With Science
Doctor! Doctor!
Hold Me Now
Lies
Da Da Da I Don't Love You You Don't Love Me Aha Aha Aha
Dance Hall Days
Everybody Have Fun Tonight
Ad blocker interference detected!
Wikia is a free-to-use site that makes money from advertising. We have a modified experience for viewers using ad blockers

Wikia is not accessible if you've made further modifications. Remove the custom ad blocker rule(s) and the page will load as expected.