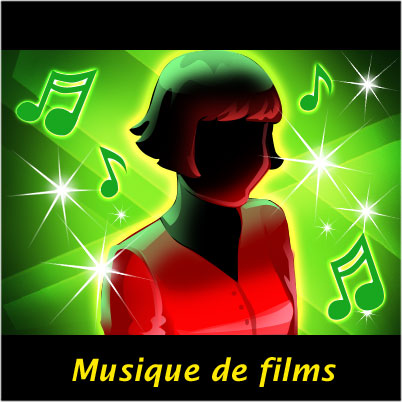 This playlist contains
62 songs*
A Nous les petites anglaises
Autant en emporte le vent
Bouge
Bodyguard
Chantons Sous La Pluie
Cloclo
Alexandrie Alexandra
Le Lundi au Soleil
Didier
E.T.
Evita
Don't Cry For Me Argentina
Flashdance
Flashdance... What a Feeling
Faubourg 36
Gainsbourg
Ghostbusters
Goldfinger
Grease
You're The One That I Want
Indiana Jones
Intouchables
Boogie Wonderland (feat. The Emotions)
Je Vais Bien Ne T'en Fais Pas
Jeux Interdits
Jules et Jim
La Belle de Cadix
La Boum 
La Chevre
La Cité de la Peur
La Guerre des Boutons
La Môme
La Panthère Rose
La Passage
La Verité si je Ment
La Vie est un long fleuve Tranquille
Le Cinquième Element
Le Fabuleux Destin d'Amelie Poulain
Le Gendarme de Saint-Tropez
Douliou-douliou Saint Tropez
Le Grand Bleu
Le Lauréat
L'effronté
Leon
Les Bronzés Font Du Ski
Les Dents de la Mer
Main Title and First Victim
Les Triplettes de Belleville
L'étudiante
Lol
Ma Vie en L'Air
Marche à l'Ombre
Men In Black
Nikita
Out Of Africa
I Had a Farm (Main Title)
Persépolis
Platoon
Pretty Woman
Pulp Fiction
Rocky
Gonna Fly Now (Theme from "Rocky")
Slumdog Milionnaire
Star Wars
Main Title / Rebel Blockade Runner
Subway
Tout Ce Qui Brille
Titanic
Top Gun
Un Air de Famille
Un Indien Dans La Ville
Ad blocker interference detected!
Wikia is a free-to-use site that makes money from advertising. We have a modified experience for viewers using ad blockers

Wikia is not accessible if you've made further modifications. Remove the custom ad blocker rule(s) and the page will load as expected.