Maroon 5

Maroon 5 at the 2011 TV Week Logie Awards

Origin

Los Angeles, California, USA

Years active

1994-present

Genres

Pop Rock, Pop, Funk Rock, Blue-eyed Soul

Labels

Octone, J, A&M/Octone, Interscope

Members

Adam Levine, Jesse Carmichael, Mickey Madden, James Valentine, Matt Flynn, PJ Morton

Past members

Ryan Dusick
Playlists
Edit
SongPop features a special playlist for this group, titled Maroon 5.
Songs by this group feature on the following SongPop playlists:
Discography
Edit
Studio Albums:
Songs About Jane (2002)
Harder To Breathe
This Love
Shiver
She Will Be Loved
Tangled
The Sun
Must Get Out
Sunday Morning
Secret
Through With You
Not Coming Home
Sweetest Goodbye
Rag Doll
Take What You Want
That's Not Enough
Wasted Years [Live]
Woman
Don't Look Back In Anger [Cover of Oasis] [Live]
Hello [Cover of Oasis] [Live]
It Won't Be Soon Before Long (2007)
If I Never See Your Face Again
Makes Me Wonder
Little Of Your Time
Wake Up Call
Won't Go Home Without You
Nothing Lasts Forever
Can't Stop
Goodnight Goodnight
Not Falling Apart
Kiwi
Better That We Break
Back At Your Door
Figure It Out
Infatuation
Until You're Over Me
Losing My Mind
Miss You Love You
Story
The Way I Was
Hands All Over (2010)
Misery
Give A Little More
Stutter
Don't Know Nothing
Never Gonna Leave This Bed
I Can't Lie
Hands All Over
How
Get Back In My Life
Just A Feeling
Runaway
Out Of Goodbyes [w/ Lady Antebellum]
Moves Like Jagger [Ft. Christina Aguilera]
Last Chance
No Curtain Call
If I Ain't Got You [Live]
Crazy Little Thing Called Love [Cover of Queen] [Acoustic]
The Air That I Breathe
Overexposed (2012)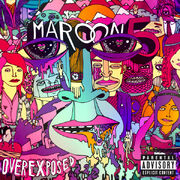 One More Night
Payphone [Ft. Wiz Khalifa]
Daylight
Lucky Strike
The Man Who Never Lied
Love Somebody
Ladykiller
Fortune Teller
Sad
Tickets
Doin' Dirt
Beautiful Goodbye
Wipe Your Eyes
Kiss
Let's Stay Together [Cover of Al Green]
V (2014)
Maps
Animals
It Was Always You
Unkiss Me
Sugar
Leaving California
In Your Pocket
New Love
Coming Back For You
Feelings
My Heart Is Open [Ft. Gwen Stefani]
Shoot Love
Sex And Candy
Lost Stars
Ad blocker interference detected!
Wikia is a free-to-use site that makes money from advertising. We have a modified experience for viewers using ad blockers

Wikia is not accessible if you've made further modifications. Remove the custom ad blocker rule(s) and the page will load as expected.