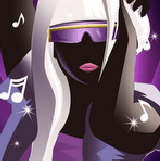 This page is for the playlist Lady Gaga, for the artist see
Lady Gaga
.
This playlist contains 38 songs*
Alejandro
Americano
Applause
ARTPOP
Aura
Bad Kids
Bad Romance
Beautiful, Dirty, Rich
Black Jesus + Amen Fashion
Bloody Mary
Born This Way
Boys Boys Boys
Brown Eyes
Dance In The Dark
Disco Heaven
Edge of Glory
The Edge Of Glory
Eh, Eh (Nothing Else I Can Say)
Electric Chapel
Highway Unicorn (Road To Love)
Scheiße
Starstruck [Ft. Flo Rida, Space Cowboy]
Summerboy
Swine
Telephone
The Edge of Glory
Ad blocker interference detected!
Wikia is a free-to-use site that makes money from advertising. We have a modified experience for viewers using ad blockers

Wikia is not accessible if you've made further modifications. Remove the custom ad blocker rule(s) and the page will load as expected.