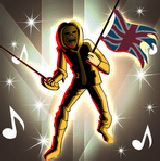 This page is for the playlist Iron Maiden, for the group see
Iron Maiden
.
This playlist contains 33 songs*
Age Of Innocence
Another Life
The Apparition
Brave New World
Brighter Than A Thousand Suns
Chains Of Misery
The Clairvoyant
Coming Home
For The Greater Good Of God
The Loneliness Of The Long Distance Runner
Montsegur
Moonchild
Mother Russia
The Prisoner
Prodigal Son
Purgatory
The Reincarnation Of Benjamin Breeg
Remember Tomorrow
Sanctuary
Satellite 15... The Final Frontier
Stranger In A Strange Land
The Trooper
Twilight Zone
Wasted Years
When The Wild Wind Blows
The Wicker Man
Ad blocker interference detected!
Wikia is a free-to-use site that makes money from advertising. We have a modified experience for viewers using ad blockers

Wikia is not accessible if you've made further modifications. Remove the custom ad blocker rule(s) and the page will load as expected.