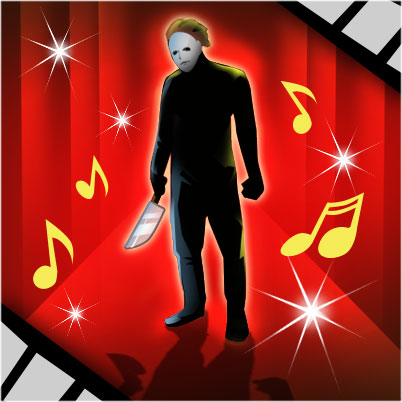 28 Days Later
The Addams Family
The Addams Family - Main Theme
Aliens
Are You Afraid of the Dark
Are You Afraid of the Dark ?
The Bride of Frankenstein
Candyman
Cannibal Holocaust
Carrie
For The Last Time We'll Pray
A Clockwork Orange
Contamination
The Deadly Spawn
All That Slithers Is Not Good
Dexter
Evil Dead II
The Exorcist
Frankenstein
Mary Shelley's T0 Think a Story
From Dusk Till Dawn
Ghostbusters
Goosebumps
Halloween
Halloween Theme - Main Title
Hardware
Jacob's Ladder
Jacob's Ladder- Main Title
Jaws
The Legend Of Sleepy Hollow
Little Shop Of Horrors
This Is Halloween
What's This?
Nightmare on Elm Street
The Omen
Patrick
Planet Terror
The Phantom of the Opera
Poltergeist
Carol Ann's Theme
Poltergeist
Profondo Rosso
Psycho
The Return Of The Living Dead
The Ring
Rocky Horror Show
Rosemary's Baby
Rosemary's Baby Main Theme
Shaun Of The Dead
The Shining
Star Wars
Susperia
Tales from the Crypt
Tenebre
The Texas Chainsaw Massacre
The Texas Chainsaw Massacre (Theme)
Main Title 2
The Thing
True Blood
True Blood Theme
Me and the Devil
The Twilight Zone
Under the Stars Light
Under the Stars Light (Theme)
The X-Files
Ad blocker interference detected!
Wikia is a free-to-use site that makes money from advertising. We have a modified experience for viewers using ad blockers

Wikia is not accessible if you've made further modifications. Remove the custom ad blocker rule(s) and the page will load as expected.