Eminem

Eminem performing in June 2009

Born

Marshall Bruce Mathers III
October 17, 1972
St. Joseph, Missouri, USA

Years active

1990-present

Genres

Hip Hop

Labels

Aftermath, Shady, Interscope, Bassmint, FBT Productions, Mashin' Duck Records, Web

Associated acts

Bad Meets Evil, D12, Dr. Dre, Proof, Dina Rae, 50 Cent, Nate Dogg, Obie Trice, Rihanna, Skylar Grey
Playlists
Edit
SongPop features a special playlist for this artist, titled Eminem.
Songs by this artist feature on the following SongPop playlists:
Discography
Edit
Studio Albums:
Infinite (1996)
Infinite
W.E.G.O. (Interlude) [Ft. DJ Head, Proof]
It's OK [Ft. Eye-Kyu]
313 [Ft. Eye-Kyu]
Tonite
Maxine [Ft. Mr. Porter, Three]
Open Mic [Ft. Mr. Porter]
Never 2 Far
Searchin' [Ft. Eye-Kyu]
Backstabber
Jealousy Woes II
The Slim Shady LP (1999)
Public Service Announcement (Skit)
My Name Is
Guilty Conscience [Ft. Dr. Dre]
Brain Damage
Paul (Skit)
If I Had
'97 Bonnie & Clyde
Bitch (Skit)
Role Model
Lounge (Skit)
My Fault
Ken Kaniff (Skit)
Cum On Everybody [Ft. Dina Rae]
Rock Bottom
Just Don't Give A Fuck
Soap (Skit)
As The World Turns
I'm Shady
Bad Meets Evil [Ft. Royce Da 5'9"]
Still Don't Give A Fuck
Hazardous Youth (A Cappella Version)
Get You Mad
Greg (A Cappella Version)
The Marshall Mathers LP (2000)
Public Service Announcement 2000
Kill You
Stan [Ft. Dido]
Paul (Skit)
Who Knew
Steve Berman (Skit)
The Way I Am
The Real Slim Shady
Remember Me? [Ft. RBX, Sticky Fingaz]
I'm Back
Marshall Mathers
Ken Kaniff (Skit)
Drug Ballad [Ft. Dina Rae]
Amityville [Ft. Bizarre]
Bitch Please II [Ft. Dr. Dre, Nate Dogg, Snoop Dogg, Xzibit]
Kim
Under The Influence [Ft. D12]
Criminal
The Kids
The Eminem Show (2002)
Curtains Up (Skit)
White America
Business
Cleanin' Out My Closet
Square Dance
The Kiss (Skit)
Soldier
Say Goodbye Hollywood
Drips [Ft. Obie Trice]
Without Me
Paul Rosenberg (Skit)
Sing For The Moment
Superman [Ft. Dina Rae]
Hailie's Song
Steve Berman (Skit)
When The Music Stops [Ft. D12]
Say What You Say [Ft. Dr. Dre]
'Till I Collapse [Ft. Nate Dogg]
My Dad's Gone Crazy [Ft. Hailie Jade]
Curtains Close (Skit)
Encore (2004)
Curtains Up (Skit)
Evil Deeds
Never Enough [Ft. 50 Cent, Nate Dogg]
Yellow Brick Road
Like Toy Soldiers
Mosh
Puke
My 1st Single
Paul (Skit)
Rain Man
Big Weenie
Em Calls Paul (Skit)
Just Lose It
Ass Like That
Spend Some Time [Ft. 50 Cent, Obie Trice, Stat Quo]
Mockingbird
Crazy In Love
One Shot 2 Shot [Ft. D12]
Final Thought (Skit)
Encore/Curtains Down [Ft. 50 Cent, Dr. Dre]
We As Americans
Love You More
Ricky Ticky Toc
Relapse (2009)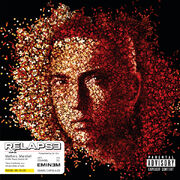 Dr. West (Skit)
3 a.m.
My Mom
Insane
Bagpipes From Baghdad
Hello
Tonya (Skit)
Same Song & Dance
We Made You
Medicine Ball
Paul (Skit)
Stay Wide Awake
Old Time's Sake [Ft. Dr. Dre]
Must Be The Ganja
Mr. Mathers (Skit)
Déjà Vu
Beautiful
Crack A Bottle [Ft. 50 Cent, Dr. Dre]
Steve Berman (Skit)
Underground
My Darling
Careful What You Wish For
Recovery (2010)
Cold Wind Blows
Talkin' 2 Myself [Ft. Kobe]
On Fire
Won't Back Down [Ft. P!nk]
W.T.P.
Going Through Changes
Not Afraid
Seduction
No Love [Ft. Lil Wayne]
Space Bound
Cinderella Man
25 To Life
So Bad
Almost Famous
Love The Way You Lie [Ft. Rihanna]
You're Never Over
Untitled
Ridaz
Session One [Ft. Slaughterhouse]
The Marshall Matters LP 2 (2013)
Bad Guy
Parking Lot (Skit)
Rhyme Or Reason
So Much Better
Survival
Legacy
Asshole [Ft. Skylar Grey]
Berzerk
Rap God
Brainless
Stronger Than I Was
The Monster [Ft. Rihanna]
So Far...
Love Game [Ft. Kendrick Lamar]
Headlights [Ft. Nate Ruess]
Evil Twin
Don't Front [Ft. Buckshot]
Baby
Desperation [Ft. Jamie N Commons]
Groundhog Day
Beautiful Pain [Ft. Sia]
Wicked Ways [Ft. X Ambassadors]
Ad blocker interference detected!
Wikia is a free-to-use site that makes money from advertising. We have a modified experience for viewers using ad blockers

Wikia is not accessible if you've made further modifications. Remove the custom ad blocker rule(s) and the page will load as expected.