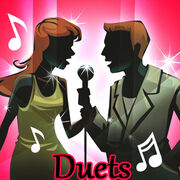 This playlist contains  songs*
Baby By Me [Ft. Ne-Yo]
New Day [Ft. Alicia Keys, Dr. Dre]
We Need A Resolution [Ft. Timbaland]
That's My Name [Ft. Lora]
Put It In A Love Song [Ft. Beyoncé]
Vivo Per Lei [Ft. Giorgia]
Vivo Per Lei [Ft. Laura Pausini]
Andrea Bocelli & Sarah Brightman
I Wanna Thank Ya [Ft. Snoop Dogg]
Aretha Franklin & George Michael
I Knew You Were Waiting (For Me)
Parlez-vous francais?
Yes Sir, I Can Boogie
Bill Medley & Jennifer Warnes   - I've Had the Time of My Life
Blu Cantrell feat. Sean Paul   - Breath
B.o.B Ft. Bruno Mars- Nothing On You
Bob Andy & Marcia Griffiths - Young Gifted and Black
Bob Dylan & Johnny Cash - Girl From The North Country
Bob & Earl - The Harlem Shuffle
Bob Sinclar feat. Sugarhill Gang - La la song
Brad Paisley & Alison Krauss - Whiskey Lullaby
Brandy & Monica - The Boy Is Mine
Bryan Adams & Melanie C - When You're Gone
Conor Oberst & Gillian Welch - Lua
Deborah Harry & Iggy Pop - Well Did You Evah!
Delta Goodrem & Brian McFadden - Almost There
Don Omar feat. Lucenzo - Danza Kuduro
Eddie Vedder & Corrine Tucker - Golden State
Ella Fitzgerald & Louis Jordan
& Lisa Marie Presley - In The Ghetto
& Lisa Marie Presley - Don't Cry Daddy
& Celine Dion - If I Can Dream
Elvis Costello & Lucinda Williams - Jailhouse Tears
ft. Rihanna - Love The Way You Lie
feat. Ciara - Takin' Back My Love
& Dev - Naked
& Jennifer Lopez - Mouth 2 Mouth
& Juan Luis Guerra - Cuando me enamoro
& Kelis - Not In Love
& Whitney Houston - Could I Have This Kiss Forever
Espen Lind & Sissel Kyrkjebø - Where The Lost Ones Go
Eve
feat. Alicia Keys - Gangsta Luv
feat. Gwen Stefani - Let Me Blow Ya Mind
Faith Hill & Tim McGraw - It's Your Love
Flo Rida feat. Wynter Gordon - Sugar
Frank & Nancy Sinatra - Something Stupid
Fred Astaire & Ginger Rogers - Let's Call the Whole Thing Off
Freddie Mercury
& David Bowie - Under Pressure
& Montserrat Caballe - Barcelona
George Michael
feat. Mary J Blige - As
feat. Mutya Buena -This Is Not Real Love
& Whitney Houston - If I Told You That
Gram Parsons
& Emmylou Harris

In My Hour of Darkness
Emmylou Harris - Love Hurts
Gwen Stefani feat. Akon - The Sweet Escape
Ja Rule ft. Ashanti - Always On Time
James Brown & Lyn Collins - This Guy's/Girl's In Love With You
James Morrison ft. Nelly Furtado- Broken Strings
Jamie Foxx feat. T Pain - Blame It
Janet Jackson feat. Nelly - Call On Me
Jay-Z ft Alicia Keys-Empire State of Mind
Jesse & Joy - Corre!
John Lennon
& Chuck Berry - Johnny B. Goode
& Yoko Ono - Every Man Has a Woman Who Loves Him
John Prine & Iris Dement - In Spite of Ourselves
Johnny Cash & June Carter - Jackson
& Ludacris

Baby
All Around The World

& Usher - Somebody To Love
My Best Wasn't Good Enough
feat. Adam Levine - Heard ' Em Say
feat. Dwele- Flashing Lights
feat. Jamie Foxx - Gold Digger
feat. Syleena Johnson - All Falls Down
Katy Perry feat. Snoop Dogg- California Gurls
Kenny Rogers & Dolly Parton -Islands in the Stream
Keri Hilson ft. Kanye West & Ne-Yo- Knock You Down
King Louis & Baloo the Bear - Wanna Be Like You
feat. Beyoncé - Telephone
& Tony Bennett - The Lady Is A Tramp
Linda Ronstadt feat. Aaron Neville
Loretta Lynn & Jack White - Portland Oregon
Lucenzo feat. Big Ali - Wem Dancar Kuduro
Ludacris ft. Mary J. Blige - Runaway Love
M2M (Marit Larsen & Marion Raven) - The Day You Went Away
Mariah Carey & Whitney Houston - If You Believe
Marvin Gaye
& Tammi Terrell - Ain't Nothing Like The Real Thing
          "             - Ain't No Mountain High Enough
& Kim Weston - It Takes Two
Mary J Blige & Method Man - You're All I Need To Get By
It's All Coming Back To Me Now
Mika & Pharell Williams - Celebrate
My Time ft. Jeremih -Fabulous
Nancy Sinatra & Lee Hazlewood - Some Velvet Morning
Nat King Cole & Natalie Cole - Unforgettable
Neil Tennant & Dusty Springfield - What Have I Done to Deserve This?
& Kelly Rowland - Dilemma
ft.Tim McGraw- Over And Over
& Juanes - Fotografia
feat. Timbaland - Promiscuous
Nick Cave
& Kylie Minogue - Where The Wild Roses Grow
& PJ Harvey - Henry Lee
Nicole Kidman & Ewan McGregor - Come What May
Olivia Newton & John Travolta - You're The One That I Want
Paul McCartney & Stevie Wonder - Ebony & Ivory
Patti LaBelle & Michael McDonald - On My Own
Peabo Bryson & Regina Belle - A Whole New World
Peter Gabriel & Kate Bush - Don't Give Up
Phil Collins & Marilyn Martin - Separate Lives
Puff Daddy & Faith Evans - I'll Be Missing You
R. Kelly & Celine Dion - I'm Your Angel
Ricardo Arjona & Gaby Moreno - Fuiste tu Rihanna
& Chris Brown

Birthday Cake
Turn Up The Music

& Coldplay - Princess of China
Ft. Drake - Whats My Name
Ft. Jay-Z - Umbrella
& Ne-Yo - Hate That I Love You 
Ricky Martin
& Christina Aguilera - Nobody Wants to be Lonely
Robbie Williams
& Joss Stone - Angels
& Nicole Kidman - Something Stupid
Roberta Flack
& Donny Hathaway

Back Together Again
You've Got a Friend
Robert Plant & Alison Krauss - Please Read the Letter
Salt'n'Pepa - Push It
Seether & Amy Lee - Broken
Sertab Erener & Mando - Aşk / Fos
Shane MacGowan & Kirsty MacColl - Fairytale of New York
Sheryl Crow & Kid Rock - Picture
Bridge Over Troubled Water
The Sound of Silence
El Condor Pasa
Cecilia
Mrs. Robinson
Scarborough Fair
The Boxer
feat. Jusin Timberlake & Charlie Wilson - Signs
feat. Pharell - Drop It's like It Hot
Sonny & Cher - I Got You Babe
Stevie Nicks & Rod Stewart - Leather And Lace
Timbaland feat. Keri Hilson - The Way I Are
Tina Turner & Eros Ramazzotti - Cose de la vita
Tom Petty & Stevie Nicks - Stop Dragging My Heart Around
Tony Bennett & Lady Gaga - The Lady is a Tramp
Travie Mccoy & Bruno Mars - Billionaire
U2 Feat. Green Day - The Saints are Coming
feat. Pitbull - DJ Got Us Fallin' In Love
feat. Young Jeezy - Love In This Club
feat.Will.I.Am - OMG
Ville Valo feat. Natalia Avelon - Summer Wine
Willie Nelson
& Kurt Nilsen (World Idol) - Lost Highway
& Merle Haggard - Pancho & Lefty
Wyclef Jean
& Claudette Ortiz 2 Wrongs
ft. Mary J. Blige- 911
Youssou N'Dour & Neneh Cherry - 7 Seconds
Ad blocker interference detected!
Wikia is a free-to-use site that makes money from advertising. We have a modified experience for viewers using ad blockers

Wikia is not accessible if you've made further modifications. Remove the custom ad blocker rule(s) and the page will load as expected.