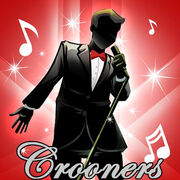 Copacabana
Could It Be Magic
Mandy
Dream Lover
Splish Splash
Don't Stop the Dance
Knockin' On Heaven's Door
Everybody Loves Somebody
I'd Cry Like a Baby
That's Amore
You Belong To Me
Can't Help Falling In Love
Heartbreak Hotel
Love Me Tender
My Way
(Love Is) The Tender Trap
Pretend You Don't See Her
Chances Are
Wonderful! Wonderful!
Hidden Away
You Raise Me Up
On Days Like This
Portrait of my love
And I Love You So
It's Impossible
Georgia On My Mind
I've Got a Woman
Mess Around
Crying
Oh, Pretty Woman
You Got It
Takin' It to the Streets
What's Right Is Right
Engelbert Humperdinck
Lucho Gatica
Ad blocker interference detected!
Wikia is a free-to-use site that makes money from advertising. We have a modified experience for viewers using ad blockers

Wikia is not accessible if you've made further modifications. Remove the custom ad blocker rule(s) and the page will load as expected.