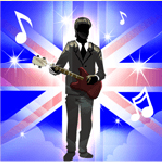 Listen playlist on
GROOVESHARK, British Invasion - Song Pop
This playlist contains 189 songs*
I Bet You Look Good On The Dancefloor
When the Sun Goes Down
God Gave Rock and Roll to You
Many of Horror
Who's Got a Match?
Country House
For Tomorrow
Girls & Boys
Parklife
Song 2
This Is a Low
The Universal
Just Like Heaven
Pictures of You
Changes
Heroes
Life On Mars?
The Man Who Sold The World
Mellow Yellow
Sunshine Superman
Son Of A Preacher Man
Wishin' and Hopin'
You Don't Have to Say You Love Me
Don't Bring Me Down
Mr. Blue Sky
Roll Over Beethoven
Fool if You Think it's Over
Pearl's a Singer
Candle In The Wind
Crocodile Rock
Goodbye Yellow Brick Road
Rocket Man
Tiny Dancer
Don't Stop
Go Your Own Way
Landslide
Ferry Cross the Mersey
Don't Let The Sun Catch You Crying
Dandy
Leaning On A Lampost
I'm Henry the VIII, I Am
Mrs. Brown You've Got a Lovely Daughter
The Air That I Breathe
Bus Stop
Carrie Anne
Just One Look
Hit Me With Your Rhythm Stick
Down In the Tube Station at Midnight
Going Underground
That's Entertainment
Town Called Malice
Hi Ho Silver Lining
Shape of Things
You Can Leave Your Hat On
Is She Really Going Out with Him ?
The Man With the Child in His Eyes
Wuthering Heights
All Day and All of the Night
You Really Got Me
One Step Beyond
It Must Be Love
A Design for Life
Motorcycle Emptiness
Unfinished Sympathy
Teardrop
Hysteria
Knights of Cydonia
Champagne Supernova
Cigarettes & Alcohol
Don't Look Back In Anger
Live Forever
Wonderwall
Bohemian Rhapsody
We Are the Champions
Don't Sleep In the Subway
Downtown
I Know a Place
Another Day in Paradise
I Wish It Would Rain Down
One More Night
Sussudio
Another Brick in the Wall
Confortably Numb
Creep
Fake Plastic Trees
Karma Police
Paranoid Android
Angie
Gimme Shelter
Paint It Black
(I Can't Get No) Satisfaction
Sympathy for the Devil
Always Something There to Remind Me
Anarchy in The UK
God Save the Queen
Pretty Vacant
Snap! [Not British - German]
Cool for Cats
Up the Junction
Caroline
Whatever You Want
I Wanna Be Adored
She Bangs the Drums
Fools Gold
I am the Resurrection
How Soon Is Now?
There Is a Light That Never Goes Out
Head Over Heels
Shout
Sowing the Seeds of Love
Thin Lizzy [Not British - Irish]
The Boys Are Back in Town
Don't Believe a Word
Bitter Sweet Symphony
Lucky Man
Baba O'Riley
Behind Blue Eyes
My Generation
Won't Get Fooled Again