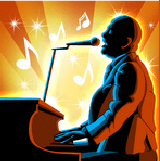 This page is for the playlist Billy Joel Live, for the artist see
Billy Joel
.
This playlist contains 29 songs*
A Matter Of Trust
Allentown
An Innocent Man
And So It Goes
Auld Lang Syne
Baby Grand
Back In The U.S.S.R.
The Ballad Of Billy The Kid
Beethoven's Ninth Symphony
Big Man On Mulberry Street
Big Shot
Dance To The Music
Don't Ask Me Why
The Downeaster "Alexa"
Goodnight Saigon
The Great Wall Of China
I Go To Extremes
I Saw Her Standing There [Ft. Paul McCartney]
It's Still Rock And Roll To Me
I've Loved These Days
Laura
Let It Be [Ft. Paul McCartney]
The Longest Time
Lullabye (Goodnight, My Angel)
Miami 2017 (I've Seen The Lights Go Out On Broadway)
Movin' Out (Anthony's Song)
My Life
New York State Of Mind
The Night Is Still Young
Piano Man
Prelude/Angry Young Man
Pressure
The River Of Dreams
The River Of Dreams/A Hard Day's Night
Say Goodbye To Hollywood
Scenes From An Italian Restaurant
Shameless [Ft. Garth Brooks]
She's Got A Way
She's Right On Time
Sometimes A Fantasy
Stiletto
Streetlife Serenader
Summer, Highland Falls
This Night
The Times They Are A-Changin'
We Didn't Start The Fire
What's Your Name
You May Be Right
You're My Home
Ad blocker interference detected!
Wikia is a free-to-use site that makes money from advertising. We have a modified experience for viewers using ad blockers

Wikia is not accessible if you've made further modifications. Remove the custom ad blocker rule(s) and the page will load as expected.