Billy Joel

Billy Joel at opening night of the 2009 season at the Metropolitan Opera.

Birth name

William Martin Joel

Born

May 9, 1949
The Bronx, New York City, New York, USA

Genres

Rock, Pop rock, Rock and roll, Soft rock, Jazz rock, Country rock, Classical

Occupations

Musician, Singer-songwriter, Pianist, Composer

Years active

1964-present

Labels

Columbia, Family Productions, Sony Classical

Associated acts

The Echoes, The Hassles, Attila, Elton John, Cyndi Lauper
Playlists
Edit
SongPop features two special playlists for this artist, titled Billy Joel and Billy Joel Live.
Songs from this artist feature on the following SongPop playlists:
Discography
Edit
Studio Albums:
Cold Spring Harbor (1971)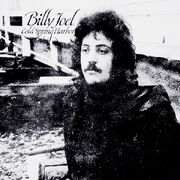 Everybody Loves You Now
Falling Of The Rain
Got To Begin Again
Nocturne
She's Got A Way
Tomorrow Is Today
Turn Around
Why Judy Why
You Can Make Me Free
You Look So Good To Me
Piano Man (1973)
Ain't No Crime
The Ballad Of Billy The Kid
Captain Jack
If I Only Had The Words (To Tell You)
Piano Man
Somewhere Along The Line
Stop In Nevada
Travelin' Prayer
Worse Comes To Worst
You're My Home
Streetlife Serenade (1974)
The Entertainer
The Great Suburban Showdown
Last Of The Big Time Spenders
Los Angelenos
The Mexican Connection
Roberta
Root Beer Rag
Souvenir
Streetlife Serenader
Weekend Song
Turnstiles (1976)
All You Wanna Do Is Dance
I've Loved These Days
James
Miami 2017 (Seen The Lights Go Out On Broadway)
New York State Of Mind
Prelude/Angry Young Man
Say Goodbye To Hollywood
Summer, Highland Falls
The Stranger (1977)
Everybody Has A Dream
Get It Right The First Time
Just The Way You Are
Movin' Out (Anthony's Song)
Only The Good Die Young
Scenes From An Italian Restaurant
She's Always A Woman
The Stranger
Vienna
52nd Street (1978)
52nd Street
Big Shot
Half A Mile Away
Honesty
My Life
Rosalinda's Eyes
Stiletto
Until The Night
Zanzibar
Glass Houses (1980)
All For Leyna
C'etait Toi (You Were The One)
Close To The Borderline
Don't Ask Me Why
I Don't Want To Be Alone
It's Still Rock And Roll To Me
Sleeping With The Television On
Sometimes A Fantasy
Through The Long Night
You May Be Right
The Nylon Curtain (1982)
A Room Of Our Own
Allentown
Goodnight Saigon
Laura
Pressure
Scandinavian Skies
She's Right On Time
Surprises
Where's The Orchestra?
An Innocent Man (1983)
An Innocent Man
Careless Talk
Christie Lee
Easy Money
Keeping The Faith
Leave A Tender Moment Alone
The Longest Time
Tell Her About It
This Night
Uptown Girl
Greatest Hits Volume I & Volume II (1985)
The Night Is Still Young
You're Only Human (Second Wind)

The Bridge (1986)
A Matter Of Trust
Baby Grand
Big Man On Mulberry Street
Code Of Silence
Getting Closer
Modern Woman
Running On Ice
Temptation
This Is The Time
Storm Front (1989)
And So It Goes
The Downeaster 'Alexa'
I Go To Extremes
Leningrad
Shameless
State Of Grace
Storm Front
That's Not Her Style
We Didn't Start The Fire
When In Rome
River Of Dreams (1993)
A Minor Variation
All About Soul
Blonde Over Blue
Famous Last Words
The Great Wall Of China
Lullabye (Goodnight, My Angel)
No Man's Land
The River Of Dreams
Shades Of Grey
Two Thousand Years
Greatest Hits, Vol. 3 (1997)
Hey Girl
Light As The Breeze
To Make You Feel My Love
My Lives (2005)
Don't Worry Baby
Nobody Knows But Me
OTHER SONGS
When You Wish Upon A Star
Ad blocker interference detected!
Wikia is a free-to-use site that makes money from advertising. We have a modified experience for viewers using ad blockers

Wikia is not accessible if you've made further modifications. Remove the custom ad blocker rule(s) and the page will load as expected.