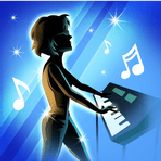 81 songs*
Big In Japan (Original)
Forever Young
You Spin Me Round (Like A Record)
Enjoy The Silence
Everything Counts (Album Version)
Just Can't Get Enough
Master And Servant (Single Version)
People Are People
Personal Jesus
Anyone Out There
Careless Memories
The Reflex
Here Comes The Rain Again [Live]
Sweet Dreams (Are Made Of This)
There Must Be An Angel (Playing With My Heart)
What Is Love? (Extended Mix)
Being Boiled (Fast Version)
Don't You Want Me
Hard Times (Instrumental Version)
(Keep Feeling) Fascination
Fame
Flashdance...What a Feeling
Why Me?
Always Something There To Remind Me
Blue Monday
Confusion
Everything's Gone Green (12" Version)
The Perfect Kiss
Temptation (7" Edit)
Electricity
Enola Gay
If You Leave
Maid Of Orleans
The Bed's Too Big Without You [Live]
Tonight I'm Yours (Don't Hurt Me)
Love Song/Sun City/Dance To The Music
Money's Too Tight (To Mention) (2009 Remix)
To Cut A Long Story Short
True
It's My Life
Life's What You Make It
Talk Talk
Everybody Wants To Rule The World
Shout
Doctor! Doctor!
Hold Me Now
Dancing With Tears In My Eyes
Vienna (Single Version)
Bad Connection
In My Room
Only You
Situation
Ad blocker interference detected!
Wikia is a free-to-use site that makes money from advertising. We have a modified experience for viewers using ad blockers

Wikia is not accessible if you've made further modifications. Remove the custom ad blocker rule(s) and the page will load as expected.