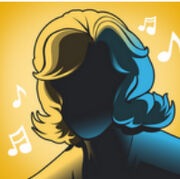 This playlist contains 27 songs*
Sleeping Single In A Double Bed
Don't It Make My Brown Eyes Blue
I'll Get Over You
Why Have You Left The One You Left Me For
Coat Of Many Colors
Here You Come Again
I Will Always Love You
The Happiest Girl In The Whole U.S.A.
Save The Last Dance For Me
(You Never Can Tell) C'est La Vie
Maybe You Should've Been Listening
Blue Bayou
Silver Threads And Golden Needles
When Will I Be Loved?
(I Never Promised You A) Rose Garden
Help Me Make It Through The Night
Til I Can Make It On My Own
Ad blocker interference detected!
Wikia is a free-to-use site that makes money from advertising. We have a modified experience for viewers using ad blockers

Wikia is not accessible if you've made further modifications. Remove the custom ad blocker rule(s) and the page will load as expected.