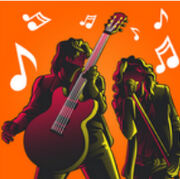 This playlist contains 75* songs
All The Small Things
What's My Age Again?
Livin' On A Prayer
You Give Love A Bad Name
Have You Ever Seen The Rain?
Dreams
Go Your Own Way
Rhiannon
Knockin' On Heaven's Door
Run To The Hills
The Trooper
Painkiller
You've Got Another Thing Comin'
Heart Shaped Box
In Bloom
Smells Like Teen Spirit
Baba O' Riley
Who Are You?
Ad blocker interference detected!
Wikia is a free-to-use site that makes money from advertising. We have a modified experience for viewers using ad blockers

Wikia is not accessible if you've made further modifications. Remove the custom ad blocker rule(s) and the page will load as expected.