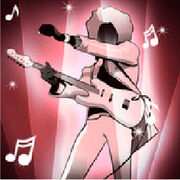 This playlist contains
208 songs* 
Dream On
Last Child
Same Old Song And Dance
Sweet Emotion
Train Kept a Rollin'
Jessica
Midnight Rider
One Way Out
Ramblin' Man
Don't Let Me Be Misunderstood
It's My Life
The House Of The Rising Sun
God Only Knows
Good Vibrations
I Get Around
In My Room
Sail On, Sailor
Wouldn't It Be Nice
Iron Man
Paranoid
War Pigs
Foreplay / Long Time
Smokin'
Eight Miles High
I'll Feel A Whole Lot Better
Mr. Tambourine Man
Turn! Turn! Turn!
Let's Work Together
On The Road Again
London Calling
London's Burning
Rudie Can't Fail
White Riot
Badge
I'm So Glad
Sunshine Of Your Love
Toad
Bad Moon Rising
Fortunate Son
Green River
Susie Q
Up Around The Bend
Helplessly Hoping
Southern Cross
Suite: Judy Blue Eyes
Changes
Life On Mars?
Queen Bitch
Rebel Rebel
Space Oddity
Suffragette City
Ziggy Stardust
Atlantis
Hurdy Gurdy Man
Sunshine Superman
Alabama Song (Whisky Bar)
Back Door Man
Crawling King Snake
Hello, I Love You
L.A. Woman
Light My Fire
Love Her Madly
Love Me Two Times
My Eyes Have Seen You
People Are Strange
Soul Kitchen
Strange Days
The Crystal Ship
The End
Touch Me
Don't Bring Me Down
Evil Woman
Mr. Blue Sky
Empty Sky
Goodbye Yellow Brick Road
Tiny Dancer
Your Song
American Woman
These Eyes
Everybody's Talkin' (From Midnight Cowboy)
Coconut
Barracuda
Crazy On You
Magic Man
Angel
Freedom
Night Bird Flying
Bold As Love
Crosstown Traffic
Fire
Foxey Lady
Gypsy Eyes
Hey Joe
If 6 Was 9
Manic Depression
Purple Haze
The Wind Cries Mary
Voodoo Child (Slight Return)
Voodoo Child Blues
Don't Stop Believin'
Lights
A Well Respected Man
Sunny Afternoon
This Time Tomorrow
You Really Got Me
Free Bird
Gimme Three Steps
Simple Man
Sweet Home Alabama
That Smell
Daydream Believer
I'm A Believer
Last Train To Clarksville
Pleasant Valley Sunday
Blackbird
Coming Up ERROR RELEASED IN 1980
That Would Be Something
Any Colour You Like
Money
Wish You Were Here
Bicycle Race
Bohemian Rhapsody
Crazy Little Thing Called Love
I Want It All
Killer Queen
We Will Rock You
You're My Best Friend
Angie
Brown Sugar
Can't You Hear Me Knocking
(I Can't Get No) Satisfaction
It's Only Rock 'n' Roll (But I Like It)
Jumpin' Jack Flash
Monkey Man
Moonlight Mile
Ruby Tuesday
Start Me Up
Time Is On My Side
Under My Thumb
Limelight
Tom Sawyer
Working Man
Black Magic Woman
Evil Ways
Hope You're Feeling Better
Oye Como Va
The Boys Are Back In Town
Brown Eyed Girl
Moondance
Stephanie Says
Sweet Jane
Amazing Journey / Sparks
Baba O'Riley
Happy Jack
Magic Bus
My Generation
The Kids Are Alright
The Seeker
Won't Get Fooled Again
Gimme All Your Lovin'
Tush
Ad blocker interference detected!
Wikia is a free-to-use site that makes money from advertising. We have a modified experience for viewers using ad blockers

Wikia is not accessible if you've made further modifications. Remove the custom ad blocker rule(s) and the page will load as expected.