50 Cent

50 Cent at the CES 2012 - International Consumer Electronics Show

Birth name

Curtis James Jackson III

Born

July 6, 1975

Origin

South Jamaica, Queens, New York, USA

Genres

Hip Hop

Occupations

Rapper, Actor, Entrepreneur, Investor

Years active

1996-present

Labels

G-Unit, Caroline, Capitol, Aftermath, Shady, Interscope, Jam Master Jay, Columbia, Violator

Associated acts

G-Unit, DJ Whoo Kid, Dr. Dre, Eminem, Sha Money XL, The Game, Olivia
Playlists
Edit
SongPop features a special playlist for this artist, titled 50 Cent.
Songs from this artist feature on the following SongPop playlists:
Discography
Edit
Studio Albums:
Get Rich Or Die Tryin' (2003)
What Up Gangsta
Patiently Waiting [Ft. Eminem]
Many Men (Wish Death)
In Da Club
High All The Time
Heat
If I Can't
Blood Hound [Ft. Young Buck]
Back Down
P.I.M.P.
Like My Style [Ft. Tony Yayo]
Poor Lil Rich
21 Questions [Ft. Nate Dogg]
Don't Push Me [Ft. Eminem, Lloyd Banks]
Gotta Make It To Heaven
Wanksta
U Not Like Me
Life's On The Line
Soldier (Freestyle) [Ft. G-Unit]
The Massacre (2005)
In My Hood
This Is 50
I'm Supposed To Die Tonight
Piggy Bank
Gatman And Robbin' [Ft. Eminem]
Candy Shop [Ft. Olivia]
Outta Control
Get In My Car
Ski Mask Way
A Baltimore Love Thing
Ryder Music
Disco Inferno
Just A Lil Bit
Gunz Come Out
My Toy Soldier [Ft. Tony Yayo]
Position Of Power
Build You Up [Ft. Jamie Foxx]
God Gave Me Style
So Amazing [Ft. Olivia]
I Don't Need 'Em
Hate It Or Love It (G-Unit Remix) [Ft. Game, Lloyd Banks, Tony Yayo, Young Buck]
Curtis (2007)
My Gun Go Off
Man Down
I'll Still Kill [Ft. Akon]
I Get Money
Come & Go [Ft. Dr. Dre]
Ayo Technology [Ft. Justin Timberlake]
Follow My Lead [Ft. Robin Thicke]
Movin' On Up
Straight To The Bank
Amusement Park
Fully Loaded Clip
Peep Show [Ft. Eminem]
Fire [Ft. Nicole Scherzinger, Young Buck]
All Of Me [Ft. Mary J. Blige]
Curtis 187
Touch The Sky [Ft. Tony Yayo]
Before I Self Destruct (2009)
The Invitation
Then Days Went By
Death To My Enemies
So Disrespectful
Psycho [Ft. Eminem]
Hold Me Down
Crime Wave
Stretch
Strong Enough
Get It Hot
Gangsta's Delight
I Got Swag
Baby By Me [Ft. Ne-Yo]
Do You Think About Me
Ok, You're Right
Could've Been You [Ft. R. Kelly]
Flight 187
Man's World
Animal Ambition (2014)
Hold On
Don't Worry 'Bout It [Ft. Yo Gotti]
Animal Ambition
Pilot
Smoke [Ft. Trey Songz]
Everytime I Come Around [Ft. Kidd Kidd]
Irregular Heartbeat [Ft. Jadakiss, Kidd Kidd]
Hustler
Twisted [Ft. Mr. Probz]
Winners Circle [Ft. Guordan Banks]
Chase The Paper [Ft. Kidd Kidd, Prodigy, Styles P]
The Funeral
You Know
Flip On You [Ft. Schoolboy Q]
Street King Immortal (TBA)
​Soundtrack Albums:
Get Rich Or Die Tryin': Music From And Inspired By The Motion Picture (2005)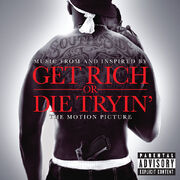 Hustler's Ambition
What If
You Already Know [Ft. Lloyd Banks, Young Buck]
When Death Becomes You [Ft. M.O.P.]
Have A Party [Ft. Mobb Deep, Nate Dogg]
We Both Think Alike [Ft. Olivia]
Window Shopper
You A Shooter [Ft. Mobb Deep]
I Don't Know Officer [Ft. Lloyd Banks, Ma$e, Prodigy, Spider Loc]
Talk About Me
When It Rains It Pours
Best Friend
I'll Whip Ya Head Boy [Ft. Young Buck]
Cloud 9 [Ft. Olivia]
Ad blocker interference detected!
Wikia is a free-to-use site that makes money from advertising. We have a modified experience for viewers using ad blockers

Wikia is not accessible if you've made further modifications. Remove the custom ad blocker rule(s) and the page will load as expected.