Tupac Shakur

Shakur performing in Los Angeles, California, July 4, 1996

Birth name

Lesane Parish Crooks

Also known as

2Pac, Pac, Makaveli, MC New York

Born

June 16, 1971
East Harlem, Manhattan, New York City, New York, USA

Origin

Marin City, California, USA

Died

September 13, 1996 (Aged 25)
Las Vegas, Nevada, USA

Genres

Hip Hop

Occupations

Rapper, Actor, Poet, Activist

Years active

1988-1996

Labels

Death Row, Interscope

Associated acts

Outlawz, Thug Life, Danny Boy, Digital Underground, Dr. Dre, Johnny "J", Ice Cube, Nate Dogg, The Notorious B.I.G., Snoop Dogg, Suge Knight
SongPop features a special playlist for this artist, titled 2Pac.
Songs from this artist feature on the following SongPop playlists:
Discography
Edit
Studio Albums:
2Pacalypse Now (1991)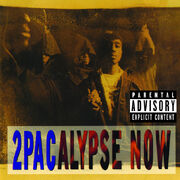 Soulja's Story
Tha' Lunatic
Strictly 4 My N.I.G.G.A.Z. (1993)
I Get Around
Keep Ya Head Up
Pac's Theme (Interlude)
The Streetz R Deathrow
Strictly 4 My N.I.G.G.A.Z.
Thug Life: Volume 1 [with Thug Life] (1994)
Me Against The World (1995)
Dear Mama
Death Around The Corner
Fuck The World
Intro
It Ain't Easy
Me Against The World
So Many Tears
All Eyez On Me (1996)
California Love
I Ain't Mad At Cha
Life Goes On
The Don Killuminati: The 7 Day Theory (1996)
Hail Mary
To Live And Die In L.A.
Toss It Up
R U Still Down? (Remember Me) (1997)
Greatest Hits (1998)
Until The End Of Time (2001)
Fuck Friendz
Happy Home
Lil' Homies
Better Dayz (2002)
Better Dayz
Fame
Thugz Mansion
Loyal To The Game (2004)
Crooked Nigga Too
Ghetto Gospel
Thug 4 Life
Ad blocker interference detected!
Wikia is a free-to-use site that makes money from advertising. We have a modified experience for viewers using ad blockers

Wikia is not accessible if you've made further modifications. Remove the custom ad blocker rule(s) and the page will load as expected.